The Walther PPK is one of the most iconic handguns in cinema history thanks to its connection to 007. While the PPK appears in most Bond adventures—it doesn't mean it's the same exact model or manufacturer in each film. Throughout the course of Walther's history, due to wars and import bans, a variety of companies have produced this incredibly well known sidearm. The question becomes of course—which iteration is found within 2021's No Time to Die?
This question is one that was brought to my attention almost a full two years ago by my friend Ray of The Bond Armory, as we did our prep work and research for our video with Walther's Marketing Manager, Cody Osborn (you can watch that here!). Using just the poster of Bond in the N. Peal Commando Sweater, Ray noted some critical features that helped us identify the model. Almost two years ago, thanks to some incredibly zoomed pictures, and comparisons against one of my own PPK's, Ray speculated, with my wholehearted agreement, that the PPK in No Time to Die is clearly a Smith & Wesson production model. There are two very important details that help us identify it as such. Again, many thanks to Ray for getting this nugget planted so long ago (we have REALLY been waiting for this movie for ages!). Thanks also to James Bond Lifestyle, whose post of Madeline Swann with the PPK in the Norway sequences reignited my desire to solidly identify the origin of Daniel Craig's last PPK.
1. The Beavertail
When Smith & Wesson began producing the PPK, they made what some consider to be a drastic change to the profile of the handgun. One of the major complaints against the original design of the PPK (and the Interarms production models as well) is hammer bite due to the very short beavertail. Hammer bite occurs when the primary hand rides too high on the frame and is struck by the hammer as it comes back. In order to prevent this issue, Smith & Wesson extended the beavertail.
You can see the difference between the original design and the Smith & Wesson's beavertail in this comparison picture here.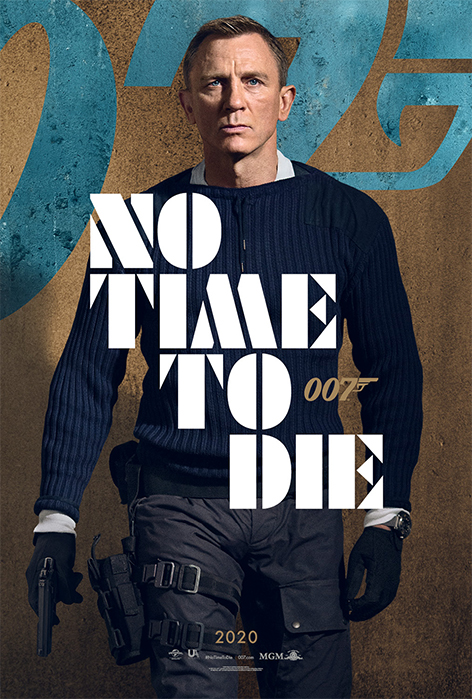 In the film, Bond is clearly using a PPK with a much longer beavertail than his usual 7,65mm model as it extends up the web of his hand, far higher than normal. This is clearly seen in the before mentioned poster.
This upgrade is one that I have found to be very popular with individuals as well. Hammer bite is rather unpleasant, and while some folks with larger hands still experience slide bite, at least that knurled hammer is no longer swinging back at full tilt with a proper vengeance.
One complaint that I have heard, that I personally don't have, is that this extended beavertail increases the felt recoil as it drives more of the pistol into the hand. Personally, I find it to create more control, and when you're on the ground using your PPK as a back-up handgun to quickly dispatch your foes, you appreciate all the control you can get.
2. The Rear Sight
Another adjustment made, first by Interarms and then again by Smith & Wesson when they took over production and importation in 2001 was to the rear sight. The Smith and Wesson rear sight is much more square than the original production models. Where the original sights, and now the new production PPK also utilize a small "U" shape, the Smith and Wesson rear sight is squared off.
This can be seen between a 1942 model and Smith & Wesson model here.
Also note that the Smith & Wesson rear sight is dovetailed, and rests on the outside of the anti-glare waved rib that runs across the slide. This is very important as the new production PPK's, now produced by Walther in Germany and Arkansas (slides manufactured in Germany, and the rest in Fort Smith, AR) retained the extended beavertail, but reverted to the original styled rear sights.
This means, that thanks to the dovetailing and squared design, coupled with the extended beavertail, it is very clear that the handgun used by James Bond in No Time to Die is in fact a Smith & Wesson production Walther PPK.
Finding your Own Smith PPK—Important Notes
While Smith & Wesson did produce the PPK from 2001-2012, there were some serious safety concerns and quality control issues with some ranges of serial numbers. On February 20, 2009, Smith & Wesson issued a statement and safety recall on all PPK's produced from March 21, 2002, until February 3, 2009. The PPK's and PPK/S' under recall were discharging without the trigger being pulled—a serious safety concern for obvious reasons. Many people carry the PPK with the safety disengaged, with it decocked and in double action mode, as they deem the passive safety of the extra trigger weight to be acceptable for a safety mechanism. With that in mind, a PPK that can discharge with the safety disengaged and without the trigger being pulled is a very dangerous thing indeed.
The good news is that post recall, these PPK's saw improvement in production and performance. My own daily carry was purchased in 2012, the final year of production for Smith & Wesson, and it has been a wonderful daily companion for two years now. If you are interested in finding a Smith & Wesson PPK, check out the recall page here and be sure to verify that the one you are looking at does not fall into that serial number range, and if it does, verify that it has the punch mark on the back of the frame. This mark is the proof that the defective hammer block has been replaced.
Parting Shots
Overall, I'm just so excited to finally share and verify that the PPK found in No Time to Die is certainly the very one that I have been carrying for these years. It was my first Walther, my first handgun actually. This PPK was a gift from my family and holds a lot of value to me, but for the longest time, it was the "almost" Bond gun. Until Skyfall, Bond had never technically been issued a PPK in .380 (not that he hasn't had one in the hand prior).  Now, it has its official place in James Bond's world, and I couldn't be happier.